Developing innovators and transformative thinkers
The future depends on our ability to address complex global challenges that reach across disciplinary boundaries.
Pursuing a research-driven graduate engineering degree at the University of Toronto means developing the specialized knowledge and expertise needed to design a better world for tomorrow and fuel our economy.
Biomedical engineering PhD candidate Nika Shakiba shares her thoughts on why U of T is a great place to pursue engineering graduate studies.
PROGRAM DETAILS
All seven of our academic units offer the following research-intensive graduate degrees:
MASc
MASTER OF APPLIED SCIENCE
In this full-time, two-year program, you'll complete a thesis supervised by a professor in one of seven academic units. A stepping stone to a doctoral degree, the MASc is ideal if you aspire to a rewarding career in research, whether in academia or industry. With supervisor approval and support, exceptional students can fast track from the MASc to the PhD program in their second year.
PhD
DOCTOR OF PHILOSOPHY
Working with world-renowned researchers, you'll gain incredible depth and experience in your eld while gaining the knowledge and competencies needed for a career in research or industry leadership. The keystone of the doctoral program is a thesis of original work, supervised by a professor. Students entering the PhD program typically have a master's degree. Outstanding applicants coming directly from a bachelor-level program can also apply for direct entry into the PhD program.
Flex-time PhD

If you're employed full time and have a master's degree in engineering, you can take your career to the next level with our flex-time PhD, offered by several departments. Designed for highly motivated engineers in R&D roles, this speciality degree enables knowledge transfer between industry and academia, and is a three-way partnership among the student, employer and supervising professor.
Vanier Scholar and PhD candidate MILES MONTGOMERY (middle) discusses his research with the Honourable Peter Van Loan (right). As a member of Professor Milica Radisic's research team, Montgomery uses polymer scaffolds to develop injectable tissue. This lab-grown tissue could enable surgeons to repair heart tissue less invasively after cardiac arrest.
EngEd
The Collaborative Specialization in Engineering Education is an interdisciplinary initiative designed for students within engineering or education who are interested in pursuing research in engineering education. Learn more about the EngEd program »
Neuromodulation
The Faculty of Applied Science & Engineering, in collaboration with the CRANIA Neuromodulation Institute (CNMI) will launch a Collaborative Specialization in Neuromodulation in Fall 2022. This newly established multidisciplinary program, a first of its kind in Toronto, will introduce students interested in Neural Engineering to the clinical and engineering aspects of neuromodulation and its various therapeutic applications. Learn more about the Neuromodulation program »
PsychEng
The Cross-Faculty Collaborative Master's Specialization in Psychology and Engineering allows MASc students in the Department of Mechanical & Industrial Engineering to study at the intersection of psychology and engineering. Learn more about the PsychEng program »
Robotics
Robotics is a fast-changing, highly interdisciplinary field. UofT's Collaborative Specialization in Robotics brings together research stream graduate students from engineering, computer science and medicine who are advancing the state of the art in robotics across healthcare, mobility, and advanced manufacturing applications.
Learn more about the CS Robotics program »
FUNDING
Registered MASc and PhD candidates receive enough funding to cover tuition and incidental fees. In addition, MASc candidates receive a minimum of $16,500 per year and PhD candidates receive a minimum of $17,500 per year.
Most students earn more than the minimum as a result of teaching assistantships and scholarships, such as from the Natural Sciences and Engineering Research Council (NSERC) of Canada, the Canadian Institute of Health Research (CIHR), and the Ontario Graduate Scholarships (OGS) program.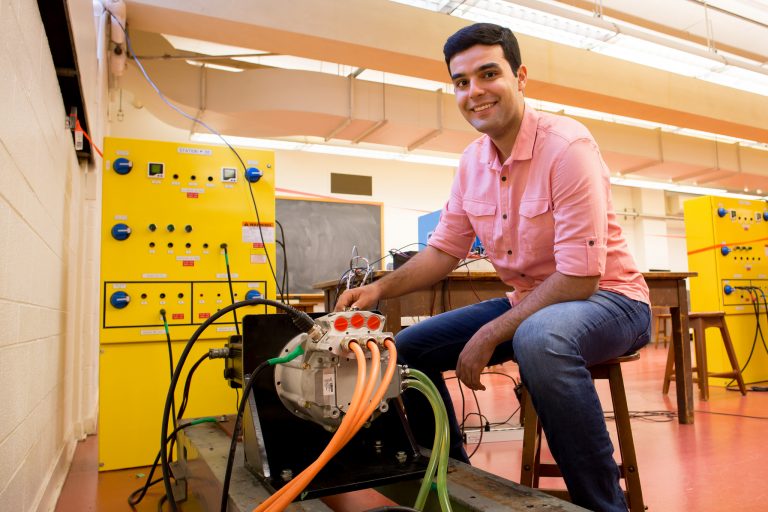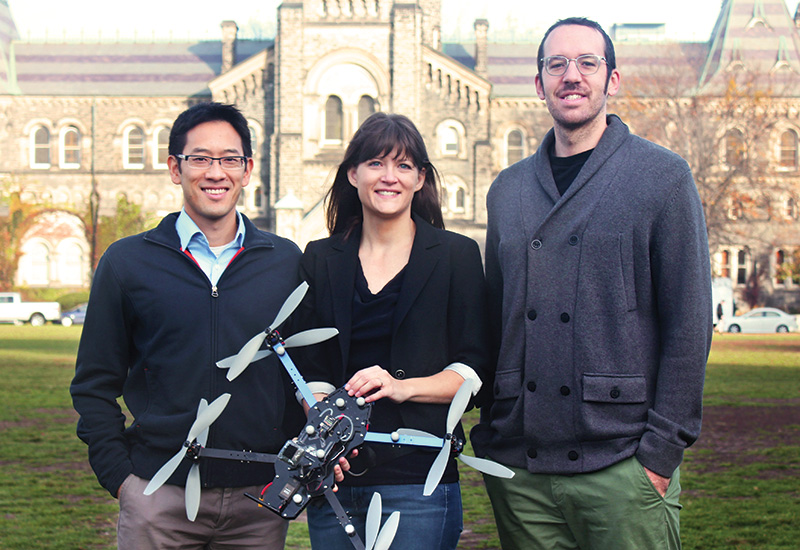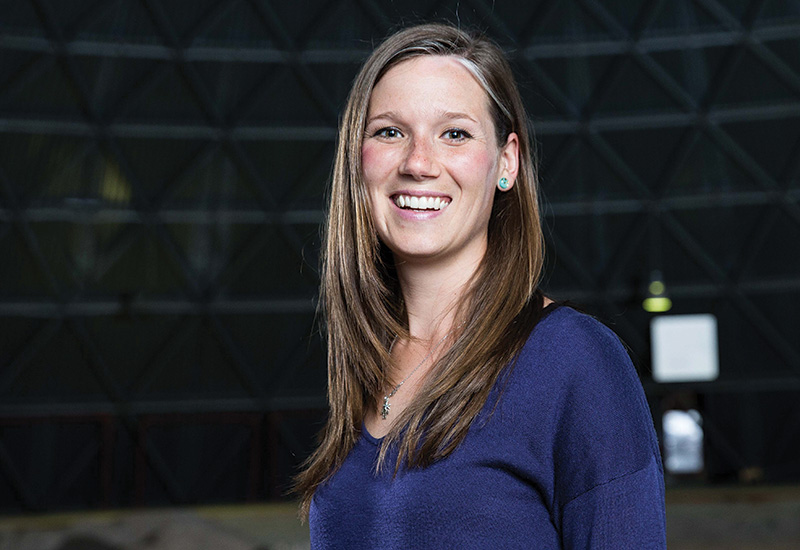 NATALIE PANEK (MASc grad in aerospace engineering) is a Mission Systems Engineer with MDA Robotics and Automation. She is developing the next generation of technologies to support Canadian and international space missions. Named one of Forbes' 30 Under 30 in 2015, she is also an aspiring astronaut.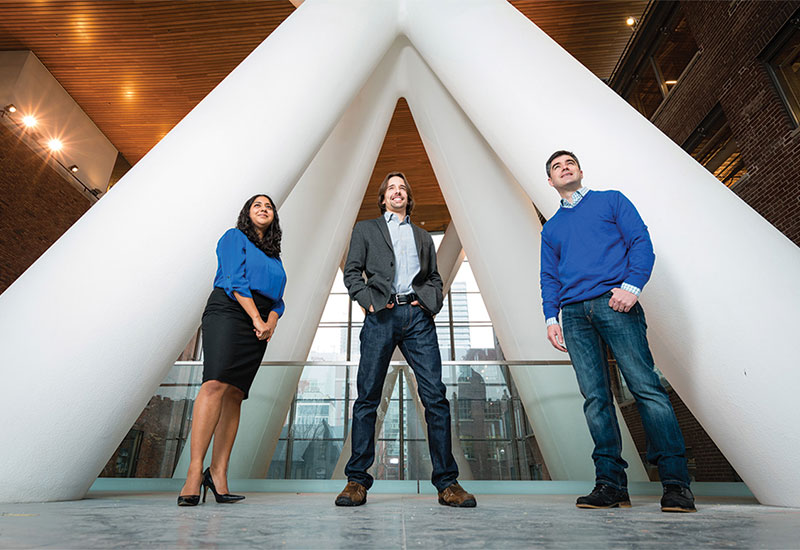 Toronto-based startup Cast Connex designs steel castings — like the one pictured — that strengthen new and old buildings. The company is a successful spinoff of graduate research by civil engineering alumni CARLOS de OLIVEIRA (middle) and MICHAEL GRAY (right) performed under professors Jeffrey Packer and Constantin Christopoulos.

U of T Engineering CONNECT
Once a student, you can access thousands of accomplished alumni through UofT Engineering CONNECT, an exclusive online network. They are poised to offer industry-specific mentorship, work opportunities and more.
TOP 10
Among North American public institutions for total engineering citations and publications
Learn about admissions and application deadlines