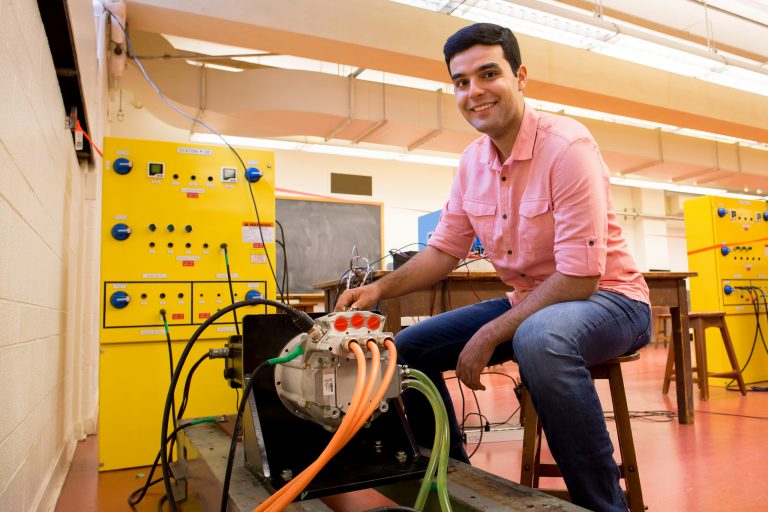 Name: Sepehr Semsar
Degree: MASc
Department: Electrical & Computer Engineering
Supervisor: Professor Peter Lehn
Area of Interest: Electric Vehicles
What is your area of focus?
My research in developing next-generation electric vehicles combines my love of cars with my interest in sustainability. My supervisor Professor Peter Lehn is heavily focused on electric vehicles and is also associate director of the University of Toronto Electric Vehicle (UTEV) research centre. I am tackling the barriers that have impeded the prevalence of electric vehicles in society, with the notable ones being charging times and range anxiety. These problems are the main focus of my degree.
What has your master's degree experience been like so far?
Working with Professor Lehn has enhanced the depth of my technical knowledge and strengthened my approach to tackling tough problems — not just from an academic perspective, but from an industrial one as well. Our main industry partner, Havelaar Canada, is developing a new electric pick-up truck, so I learned a lot about the intricacies of building and designing a commercial vehicle. Since I am developing a full-scale prototype using a real electric vehicle motor and components, I've gained real-world knowledge from companies supporting the electric vehicle sector, which I see as an invaluable addition to my education.
Why did you choose U of T Engineering?
I chose U of T Engineering because I wanted to study at a university with global recognition for their academics and research. I also wanted to graduate with the knowledge and experience to be competitive in the job market, while having the option of further pursuing my academic career as a researcher. On top of all that, U of T is located in the heart of downtown Toronto, which I think is a pretty exciting city to live in. Choosing U of T was really a no-brainer.
What makes U of T unique?
U of T is a very unique institution because of its diversity. It's awesome to be in an environment where you can interact with people from all over the world with different cultural and academic backgrounds. Because of this, I feel more comfortable interacting and networking with people and companies globally, as well as thinking outside the box. On a side note, there is a club for everything at U of T! From building race cars to dancing, you can continue doing what you love, or try something new.
What do you hope to do after completing your degree?
I hope to continue working toward a PhD, and create my own startup company afterward. My research in energy systems provides me with a breadth of knowledge, from digital systems and electronics to controls systems and programming. Combined with my exposure to industry, I feel I have a good understanding of the challenges ahead, and feel prepared to tackle them.