Student Resources
At U of T Engineering, you'll find a global community of innovators, industry experts and researchers. We are at the forefront of engineering education and research — in the areas we explore, the ways we collaborate beyond traditional disciplines, and the unique opportunities we create for our graduate students.
Throughout your studies, you'll have a number of ways to get involved beyond the classroom and lab — both within U of T Engineering and through University-wide services and offerings. There's also resources and supports available to you to help you succeed as you complete your studies: 
Mental health, wellness and safety resources
MENTAL HEALTH & WELLNESS
Connect with your graduate administrator to learn more about the mental health and wellness resources available to you through your department.
Graduate students can access counselling services at the School of Graduate Studies (SGS) — wellness counsellors offer tailored graduate student services and focus on identifying strengths, acquiring resiliency and building coping skills.
Looking for mental health services, resources, or academic supports? Need to talk with someone about your experiences of supervision? This portal, developed in collaboration with the University of Toronto Graduate Students' Union (UTGSU), can help point you in the right direction.
The School of Graduate Studies (SGS) offers options and resources for graduate students who require accessibility accommodations. Learn more by visiting the SGS accessibility advisor in person at 63 St. George Street or by email at accessibility.services@utoronto.ca.
Connect confidentially with one of our trained Grad-to-Grad (G2G) Peer Advisors to talk about options and strategies for addressing a concern and University supports and resources. 
The Family Care Office is a U of T-wide service for students, faculty and staff that helps families achieve balance. Learn about daycare options, pregnancy, eldercare and more. Student family housing is also available.
External health and wellness services available to you include:
SAFETY
If you're feeling unsafe on campus, experience or witness something that made you or a peer feel unsafe or in danger, the below University services are available to you. You can also register for U of T's alert system to stay updated on campus alerts. If your matter is urgent, call 911.
Grad PACS supports PhD, MASc and MEng students to identify career pathways to launch their career planning early in their degree.
The Academic Success Centre offers specialized support for graduate students including workshops, writing groups and individual consultations with learning strategists.
The Faculty's Learning Strategist is available to help you succeed academically. Schedule a meeting to discuss everything from problem-solving and time management skills to coping with stress and figuring out your learning style.
Whether you're coming to Toronto for graduate studies from another country, or interested in international experiences for graduate students, the Centre for International Experience is a great resource.
U of T Engineering's Troost Institute for Leadership Education in Engineering (Troost ILead) offers programming for undergraduate and graduate engineering students, including courses, leadership labs and more. Troost ILead is the first centre of its kind in Canada.
SGS Best Practices for Grad Students
SGS developed resources in consultation with the Graduate Students' Union and graduate units across the University of Toronto. They have been designed to support graduate students, faculty, and administrators.
Engineering & Computer Science Library
The Engineering & Computer Science Library is the second largest science library at U of T. It is the main library on campus for engineering, applied science and computer science materials. It has a robust collection of books and journals, as well as standards, codes, conference proceedings, technical reports, handbooks, and other technical material.
In 2016, U of T conducted a study of the employment status of over 10,000 PhD graduates. View the results of the study to see where your PhD can take you.
Finances and work opportunities
This calculator will show you how much money you will need to cover tuition and fees, housing costs, food and everything else for the upcoming academic year.
The School of Graduate Studies has financial advisors on staff who are trained to assist currently registered students with navigating the various funding practices at the university. They can also provide support with budgeting, scholarships and debt load management.
The School of Graduate Studies has an emergency grant for students with unexpected financial expenses.
For information on teaching assistantships, please contact your graduate department administrator for more information and postings.
Student clubs, associations and student life
The Graduate Engineering Council of Students acts as a forum for representatives from all Engineering Graduate Student Associations at the University of Toronto to collaborate on academic, social and professional events, discuss issues that broadly affect Engineering graduate students, and represent the general interests of Engineering graduate students to the Faculty and University.
Engineering Member Associations
This University-wide group manages the Graduate Student Health and Dental plan and several other benefits for grad students. The union also organizes grad student intramurals, the GSU Pub and Grad Escapes, a series of fun events for U of T grad students to explore and enjoy the City.
Gradlife is your one-stop shop for all resources and activities offered to grad students across U of T. Their newsletter is full of fun activities and events you won't want to miss.
U of T is home to hundreds of student-led clubs and teams — everything from cultural associations to interest groups.
Engineering Departmental Graduate Associations
Engineering departments within the Faculty have their own graduate student associations that organize everything from intramural sports to social and professional events. When you become a graduate student, you automatically become part of your department's graduate student association.
Engineering Entrepreneurship Accelerators
U of T Engineering is home to two entrepreneurship accelerators: The Entrepreneurship Hatchery and Start@UTIAS. They are part of a larger ecosystem of startup incubators across U of T. Both the Hatchery and START@UTIAS provide engineering students with experienced mentorship, engaging programming and access to seed funding to transform business ideas into viable startups.
Your community extends beyond professors and peers. When you become a U of T Engineering student, you gain access to U of T Engineering CONNECT, an exclusive and rich social network of alumni from around the world. Alumni can offer you mentorship, industry-specific career advice, work opportunities and more.
The Grad Room Lounge, located at 66 Harbord St., is a casual space in which to meet grad students from across U of T. In addition to being a great place to relax or student,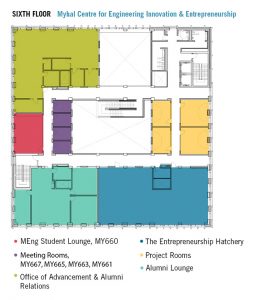 they also offer workshops and professional development program
MEng students have a dedicated space (MY660) in the sixth floor of the Myhal Centre for Engineering Innovation and Entrepreneurship. MEng students can use this dedicated space to study, collaborate with others or unwind. The meeting rooms MY667, MY665, MY663 and MY661 are also available to MEng students. To book any of the meeting rooms, please speak to your department graduate administrator.
Check your departmental website to learn more about the spaces available to you.