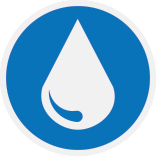 Through the Emphasis in Advanced Water Technologies, students are able to gain in-depth knowledge of water treatment methods and design of treatment processes.
Students who complete the emphasis will have their emphasis notated on their transcript.
Students who are pursuing more than one emphasis, can only use maximum of one course that is shared between two emphases.
Eligibility: All MEng students in Chemical, Civil, and Materials Science and Engineering.
Course Requirements: Same as MEng requirements for the home department.
Civil Engineering: 10 courses, or 8-9 courses and 1 project.
Chemical Engineering: 10 courses, or 7 courses and 1 project.
Materials Science & Engineering: 10 courses, or 7 courses and 1 project.
2 Core Courses
CHE 1150, Industrial Water Treatment
At least one of the following (the other 2 can count as specialization courses):

CIV 541, Environmental Biotechnology
CIV 549, Groundwater Flow and Contamination
CIV 550, Water Resources Engineering
CHE 565, Aqueous Process Engineering
CIV 1303, Water Resources Systems Modeling
CIV 1308, Physical/Chemical Treatment Processes
CIV 1311, Advanced and Sustainable Drinking Water Treatment
CIV 1319, Chemistry and Analysis of Water and Waste
CIV 1399, Water Sanitation and Hygiene
CIV 1399, Treatment Wetlands
CME 500, Fundamentals of Acid Mine Drainage
2 Specialization Courses
Pick from the following list, or from #2 above:
CHE 1213, Corrosion
CHE 1430, Hydrometallurgy Theory and Practice
JCC 1313, Environmental Microbiology
JNC 2503, Environmental Pathways
MIE 1807, Principles of Measurements
STA 1004, Introduction to Experimental Design
6 Additional Courses and/or Project
May include courses not selected from above. Must comply with Departmental requirements.
Enrolment: Contact CivMin Graduate Programs Coordinator, civ.gradprograms@utoronto.ca after being admitted into the normal MEng program. Enrollment is permitted at any time during your MEng.
Questions: Contact CivMin Graduate Programs Coordinator, civ.gradprograms@utoronto.ca