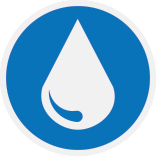 Completing the Emphasis in Advanced Water Technologies will lead to a statement of completion on the student transcript, demonstrating in-depth knowledge of water treatment methods.
 Students may double-count a maximum of one course towards the requirements of any two emphases.
Students cannot earn more than two emphases.
Eligibility: All admitted MEng students in Chemical, Civil & Mineral, and Materials Science & Engineering.
Course Requirements: Same as MEng requirements for the home department.
Civil Engineering: 10 courses, or 8-9 courses and 1 project.
Chemical Engineering: 10 courses, or 7 courses and 1 project.
Materials Science & Engineering: 10 courses, or 7 courses and 1 project.
---
NOTE: Students who began their MEng studies prior to September 2021 can qualify for the Advanced Water Technology using the previous requirements listed here.
MEng students who start their studies September 2021 and after must meet the most recent Emphasis in Advanced Water Technology requirements listed below. 
---
2 Core Courses
1. At least one of the following.
CHE 1150, Industrial Water Technology
CIV 1308, Physical/Chemical Treatment Processes
CIV 1309, Biological Treatment Processes
CIV 1311, Advanced and Sustainable Drinking Water Treatment
2. Two courses from the list above, or 1 from above and 1 from this list.
CIV 541, Environmental Biotechnology
CIV 549, Groundwater Flow and Contamination
CIV 550, Water Resources Engineering
CHE 565, Aqueous Process Engineering
CIV 1303, Water Resources Systems Modeling
CIV 1319, Chemistry and Analysis of Water and Waste
CIV 1330, Water Sanitation, Hygiene, and Global Health
CIV 1398, Passive Water Treatment Systems
CME 500, Fundamentals of Acid Mine Drainage
2 Specialization Courses
Pick from the following list, or from any of the courses above:
CHE 1213, Corrosion
CHE 1430, Hydrometallurgy Theory and Practice
JCC 1313, Environmental Microbiology
JNC 2503, Environmental Pathways
STA 1004, Introduction to Experimental Design
6 Additional Courses and/or Project
May include courses not selected from above. Must comply with Departmental requirements.
Enrollment and Completion
Contact Alison Morley at meng.civmin@utoronto.ca to declare your interest, so that you can be notified of water engineering-related events and extracurricular activities.
To receive acknowledgment of the emphasis on your transcript, it is the student's responsibility to declare completion of the emphasis to their home department's graduate program administrator at the same time that they are requesting convocation. The student may also reach out to meng.civmin@utoronto.ca to confirm the completion of the emphasis.