Where will Canada's #1 engineering school take you?
Our alumni and current students are the best testament to the value of a U of T Engineering graduate degree. Whether you're interested in a career as a leader in an engineering firm, the CEO of your own company, a researcher advancing their field, a world-class educator or an aspiring astronaut, graduate study can lead to innumerable opportunities across all sectors and environments.
Explore the profiles below to learn more about how current and former U of T Engineering grad students have leveraged their degrees to create rich and diverse careers:
Frequently Asked Questions

Who should apply to attend GRD2024?
This event is for top Canadian applicants to U of T Engineering MASc and PhD programs.
Why should I attend GRD2024?
There is a lot to consider when it comes to graduate school, from research interests and community to support and career-development opportunities. Graduate Research Days 2024 is a wonderful way to have all your questions addressed about what Canada's top engineering school can offer. This is an opportunity for you to meet with current students and potential supervisors, and you'll leave with a better understanding of how U of T Engineering can support you in your journey.
When is GRD2024?

Each graduate unit has their own unique dates set, please see 'how to apply' below for more information.

What will I experience at GRD2024*?
Meetings with potential supervisors based on your research interests
Poster sessions featuring current research
Tours of U of T Engineering's learning and research spaces
Networking and social events with other attendees, current students, faculty and staff
*exact itinerary can vary from department to department, please see 'how to apply' below for more information.

How do I apply to attend GRD2024?
Follow the links below to your department of choice to complete an application form for this event. You may apply to attend GRD through one department. The application deadline for GRD varies between departments; please refer to the website of your department of choice for details. (URLs will be updated as information is available)
Department of Civil & Mineral Engineering 

University of Toronto Institute for Aerospace Studi

e

s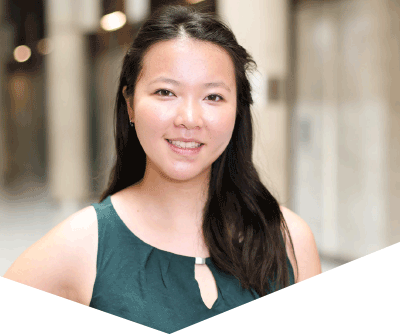 "Attending Graduate Research Days played an essential part in making my decision for graduate studies. I made one-on-one connections with current students and professors — including the researchers I was most interested in working with. By visiting the department, I found a potential niche that aligned perfectly with my interests and goals."
- Rachel Kwan, MASc candidate in chemical engineering
What students said about Graduate Research Days:
"During Graduate Research Days, I met inspiring professors and learned about many interesting student projects. I also enjoyed meeting students from other universities at the Welcome Pub Night and dinner events. I felt very welcome at U of T and got a real sense for the community. The University works hard to build a collaborative environment that nurtures curiosity and encourages innovation, which is one of the reasons I ultimately accepted my offer to study at U of T."
– Sean Oh, MASc alumni in materials science and engineering
---
"As an out of province student, Graduate Recruitment Days allowed me to see how beautiful U of T is, how impressive the facilities are, and meet prospective supervisors in person. It allowed me to make a personal connection with my supervisors and the lab, which go beyond the connections made through skype or phone calls, helping me to truly see myself at the University of Toronto."
– Philippa Gosine, PhD alumni in biomedical engineering
---
"Attending this event solidified my decision to come to U of T, thanks to some life advice from Professor Jamieson and the enthusiasm of Professor Sun, with whom I now work. I did my undergraduate degree at UBC, so the event was also a great way to explore Toronto. Given my research is in applications of mechanical engineering technology in biology, I really liked how close U of T is to all the major hospitals — making it easy to collaborate with biological researchers."
– Devin Luu, MASc alumni in mechanical engineering
U of T Engineering consistently ranks as the top Engineering school in Canada in all major international rankings
U of T Engineering attracted $104.7 million in total research funding last year
U of T receives the largest share of NSERC funding for engineering research in Canada
More than 400 industrial partners collaborate with U of T Engineering researchers
Upon graduating from U of T Engineering, you'll join an alumni network of more than 50,000 worldwide
The U of T Engineering community consists of more than 1,700 research-focused graduate students
Read the latest stats and stories in our 2022 Impact Report